Grit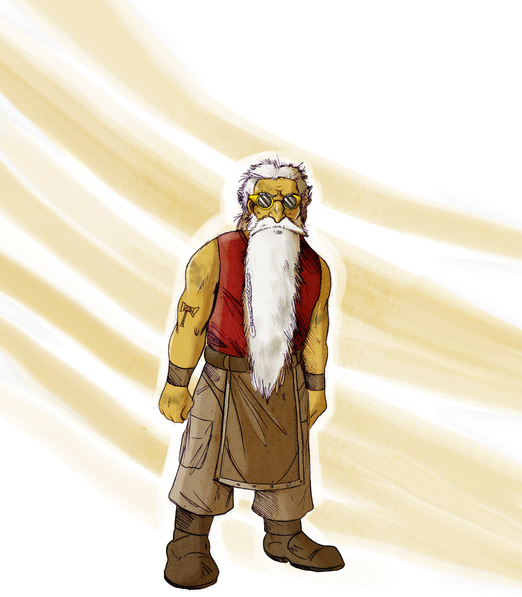 The Maker of SkyBases
Grit does more than simply craft the illustrious orbs that represent SkyBases in the Arena; he is also skilled in the construction and repair of anything hydro-cybernetic. That's right, according to the story, the heroes are not destroying the ships themselves. Rather, on board each ship is a beautifully crafted orb that brings pain and yearning to the attacker. Heroes must die to themselves hundreds of times over in order to advance in their personal training, and the Arena allows this to occur in a truly unique way…
As for that bit about hydro-cybernetics, Isaac's arm is no ordinary prosthetic...
Not much is to be known about Grit at this point in time; his past is a mystery to many. Though, he is rumored to be of an ancient Germanic descent. His age may range anywhere from 100 to 10,000 years old; it's anyone's guess.
He doesn't live in Tempo like many of the younger heroes--one bad run-in with the Perception Enhancement Redux (P.E.R.) will drive any man away for centuries.
Grit is defense heavy and doesn't really care much for going on the offense.
That said, he sure packs a punch when he's fighting on behalf of downed allies.


The Cast

Akio Ayumi Boulos Christoph Eng Gambito Grit Hindra

Ignacia Isaac Izumi Kay Kyauta Mace Michael Origin

Rohan Yasmine Zhao Zoe