By submitting your e-mail, you are agreeing to our Terms of Service, Privacy Policy, and Cookie Policy.
Creation eagerly awaits the manifestation of the sons of God. While all of creation is groaning...​
HERO puts on display the Sky-Battles
of the heavens for all to see.

Explosive Hidden Abilities

Decisive Drafting

Way OverPowered Heroes (OP)

One Turn WIns (OTW).
​No life points. No victory points. No boosters.
Know Your Opponent. Know Yourself.
Take on opposing SkyBases

Build gritty engines that break the game

Plow headlong into the deepest corners of the HERO framework

Iron sharpens iron in this strategic yet tactical hand management team builder

Training time is here. Easy to learn, a journey to Master
As Elders, players train up a dytsopic menagerie of new recruits. This new generation of Ghostwalkers battle it out in the skies of eternity. But, as with the heroes of yesteryear, death is elusive. What appears to be sure defeat, more often than not is but a temporary setback.
2-4 players

100 majestically designed cards including 4 SkyBases (1 for each player to defend), 4 sets of Stat Bonuses, and
4 Reference Cards

1v1 / 2v2 / Free-for-all

Shifting field conditions and a dynamic set of heroes makes for a highly replayable experience
How will you build your force?
​
One buff boss-like hero

A Large Army of New Recruits

A rag-tag team of trained fighters who operate like a well-built "engine"
What sacrifices are you willing to make to defeat your opponent's SkyBase?
​
E nhance heroes with stats and abilities
R ecruit a team...
...............................or not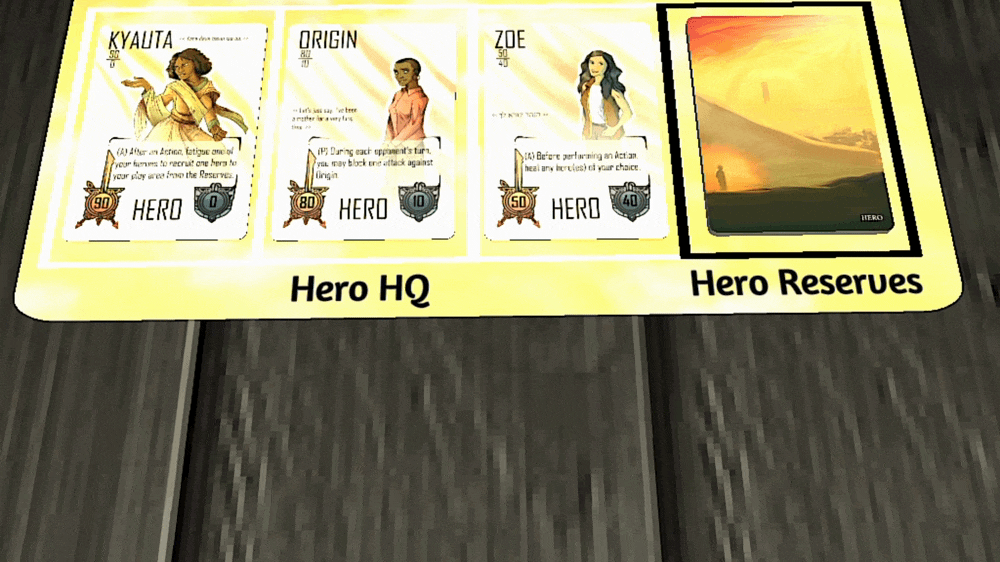 O vercome opposing heroes and their SkyBase(s)
Prove yourself in the HERO arena, and prepare for the war yet to come. Darkness shall not prevail.
Tabletop Games | Card Games | Kickstarter
A Fully Funded Kickstarter
3.5 years of "off-time," one PS4 abandoned, one Netflix subscription cancelled, dozens of chances to quit the design process, dozens of artists and designers contacted, dozens of rejections...
7 great artist contributions, 3 final artists, hundreds of playtesters, hundreds of relationships built
Dozens of designers provided feedback, several great Facebook group mentors spurred the journey forward, marketers of the greatest caliber supported the hardest part of the process...

1 amazing daughter, 1 amazing wife, 1 amazing God

By submitting your e-mail, you are agreeing to our Terms of Service, Privacy Policy, and Cookie Policy.